Fort Wayne Drug Possession Defense Attorneys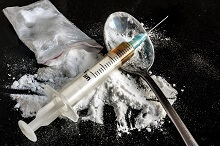 When it comes to drug possession charges in Indiana, the local prosecutor is given a lot of leeway regarding the extent of charges. Possession of less than an ounce of marijuana typically results in a Class C misdemeanor charge.
However, prosecutors have the discretion to increase charges all the way up to felony possession with intent to distribute if they consider the amount too much for personal use.
Call the attorneys at Arnold Terrill, P.C. at (888) 912-7220.
Wherever you reside in northeastern Indiana, if you have been charged with any level of drug possession offense, call the criminal defense law office of Arnold Terrill, P.C., in Fort Wayne right away. Drug possession charges hinge on evidence but they also hinge on the prosecutor's decisions regarding the amount in possession and intent of use.
*Please be aware that effective July 1, 2014, the Indiana Criminal Code is revised to include a new sentencing structure. Class A through D felonies arereplaced with Levels 1 through 6 felonies.
Charged with drug possession? We will work hard in an attempt to prevent jail time.
At Arnold Terrill, P.C., we offer our clients more than 50 years of experience and a dedication to protecting their rights that can help them secure the best possible resolution to their drug crimes charges. We understand that many criminal cases involve issues in addition to the charges themselves, such as drug dependency and mental health issues. We offer comprehensive representation that addresses all of the issues of our clients' cases.
Additionally, the attorneys at Arnold Terrill, P.C., have skillfully handled thousands of cases involving allegations of marijuana, narcotics or contraband substance possession, distribution or manufacturing. We offer our skilled and experienced criminal defense representation to those facing drug possession charges related to:
Marijuana
Methamphetamine
Cocaine
Prescription drugs (Xanax, OxyContin, Percocet, etc.)
Spice (synthetic marijuana)
Morphine
Heroin
Contact The Allen County Possession Of Marijuana Defense Attorneys Of Arnold Terrill, P.C.
If you are facing drug possession charges, you need a defense that can protect your rights. The Fort Wayne, Indiana, drug possession defense lawyers of Arnold Terrill, P.C., offer our clients the defense they need. Call us at (888) 912-7220 or contact us online. We don't charge a fee for a telephone consultation. We hope you contact us so we can discuss your case. We want to help you with your problem.